American Apparel May Not Survive October Interest Payment
Summary
APP reported Q2 earnings and its situation has deteriorated further.
Sales and margins are still getting crushed and liquidity is drying up.
APP has a decent shot at bankruptcy in October as it has to make an interest payment it cannot afford.
A little over two years ago I wrote an article about embattled retailer American Apparel (NYSEMKT:APP) when the stock was trading for just under $2. At the time, I said the stock was worthless and that we'd see the company head towards bankruptcy and a zero stock price. I explain in detail all of the reasons why I saw APP going bankrupt two years ago so I won't rehash them here but as we all know, that prediction has come true. APP is now trading for only a few pennies as the longs continue to hope for a turnaround that has never materialized. APP released a turnaround plan that I found grossly inadequateand I believe it has done nothing to stem the tide of cash outflows and operating losses. The company reported Q2 earnings a couple of days ago so I'll update my views on APP based upon the new information that was in the report.
(click to enlarge)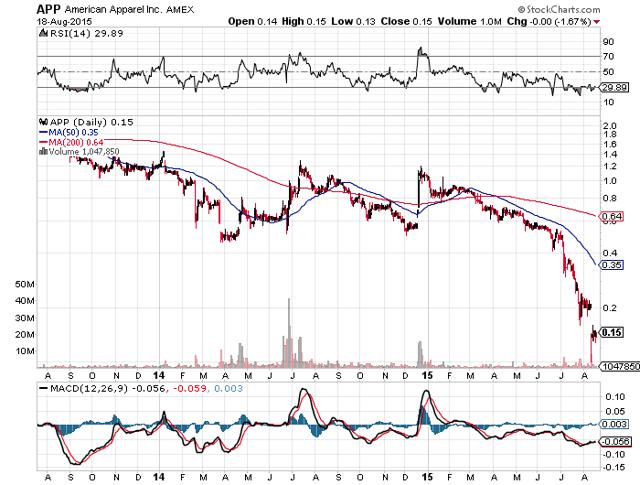 Sales fell more than 17% as the company's comp sales plummeted 14% during the quarter. This is a problem APP has had for a very long time as it has structural demand issues; consumers don't want what it is selling. This was the problem two years ago and it is the problem now. APP has no viable strategy to turn sales around other than business-as-usual product refreshes management is touting as the saving grace of the company. That's ludicrous and while it may provide a temporary bump in sales, refreshing clothing lines based upon the season is not a turnaround strategy; it's just how you run an apparel company.
In addition, APP lost more than $6 million during the quarter due to foreign currency translations. This is a result of something I talked about in my original article and that is APP's ill-conceived supply chain; the company has stores spread out all over the world where it is impossible to achieve any scale whatsoever. That shows up in operating costs and it now shows up as the strong dollar takes a toll. APP's presence in the US is miniscule and yet, it felt the need to expand to far-reaching corners of the globe. That decision is now hurting it in two ways; higher operating costs and forex losses. That is $6 million APP certainly cannot afford to lose so the new wrinkle of forex losses adds a new sense of urgency to APP's situation.
As you'd expect, gross margins continue to fall as well, ceding 490 bps over the comparable period last year. That's a result of old inventory and the fact that APP has the structural demand issue I mentioned. It has to discount and promote to move product and that's crushing margins. I expect this isn't going to change much even if the highly touted product refresh comes through in the fall.
Obviously, APP is losing money and has been for a long time. And while GAAP earnings losses are bad, the real issue for APP is that it simply doesn't have enough cash to keep its doors open much longer. APP is down to just a few million dollars in cash at this point and that is not sustainable. It has been borrowing heavily for years and is now on the hook for $210 million in long term notes. These notes will never be paid back because of all of the things I just mentioned; APP has zero ability to even produce enough cash to keep the business afloat, let alone pay down debt. That means the interest expense on these notes is killing APP and will continue to as long as it remains a going concern. APP has a $13.9 million interest payment due on these notes on October 15th and I have no idea how it is going to make this payment. With its other borrowing facilities nearly tapped out, I think default in October is looking probable.
In addition to that it has a $50 million asset-backed revolving credit facility that it had $38 million of outstanding borrowings on at the end of the quarter. What's worse than that is that APP is in default on this facility. The facility has fixed charge coverage ratio and EBITDA requirements and APP is in serious violation of both of those covenants. The facility has been reassigned as a result of the default and is now in the hands of a syndicate of lenders and the terms have been amended. The most onerous of which is the one that states that under the new facility, amounts borrowed on the credit facility cannot be re-borrowed once they are paid back. That means that APP's ability to finance inventory and operating costs in the coming months has been seriously hindered because even if it draws on its facility, it cannot float inventory and operating costs by paying them back and re-borrowing. This is a huge negative as the facility is essentially functioning like long term debt at this point.
APP announced its share issuance program some time back and under the program, APP is permitted to issue up to $10 million worth of shares at the market price. The company has issued $2 million of shares thus far, leaving $8 million left. However, this important source of liquidity also has a feature that only allows 15 million shares in total to be issued, regardless of the price. Since 4 million shares have already been issued that leaves APP with the potential to issue up to 11 million additional shares but with the stock price at 15 cents, those shares are now only worth $1.65 million. This program was supposed to be for emergency liquidity but the stock price is so low it isn't meaningful anymore. This has removed yet another potential source of funding.
APP still has all the other problems I mentioned in my original article like high interest expense on its debt as well as all the operating issues and costs it incurs but now, liquidity is a very serious issue. With borrowing sources drying up and the share price heading to zero, the only hope for APP is to be bought out and taken private. There are some big investors that have big stakes in APP that have lost a lot of money betting on a turnaround that never came so perhaps one of them will roll the dice. I won't speculate on that but what I do know is that APP is going to run out of cash in the next couple of quarters (if it survives the October interest payment) unless something drastically changes. I'm not short anymore because I'm up 90%+ since my original position two years ago and at this point, the stock is driven by news events. If some poor sap decides to buy the company it may be at a price higher than today but I wouldn't bet on it. Every day APP remains public and independent it gets closer and closer to bankruptcy and a zero stock price. I don't think anyone will buy it but stranger things have happened. For me, this has been my most successful short ever so I'm ringing the register despite the fact that I think APP is still going to zero.
Editor's Note: This article covers one or more stocks trading at less than $1 per share and/or with less than a $100 million market cap. Please be aware of the risks associated with these stocks.