Home
>
Uncategorized
> Google's Presence In PCs Delivers A Boost To Internet Adoption In Emerging Markets
Google's Presence In PCs Delivers A Boost To Internet Adoption In Emerging Markets
Android when installed into a low-cost PCs is a disruptive business model.
Furthermore, it introduces the possibility of selling computers in emerging markets where income elasticities of demand are extremely limiting.
This is possible due to the low cost of mobile components and the exclusion of smartphone-specific components (baseband modems, gyroscopes and various other sensors).
Assuming broadband costs can be kept below $10/month, and PCs can be sold below $100, the implications on Google's ad business model are extremely promising.
If you thought Android (NASDAQ:GOOG) (NASDAQ:GOOGL) was a huge pain in the side of Microsoft (NASDAQ:MSFT), just wait until you see this next product. Of course, Google hasn't designed the product, but will reap the benefits from the launch of an Android-based PC that has PC-like functionality.
(click to enlarge)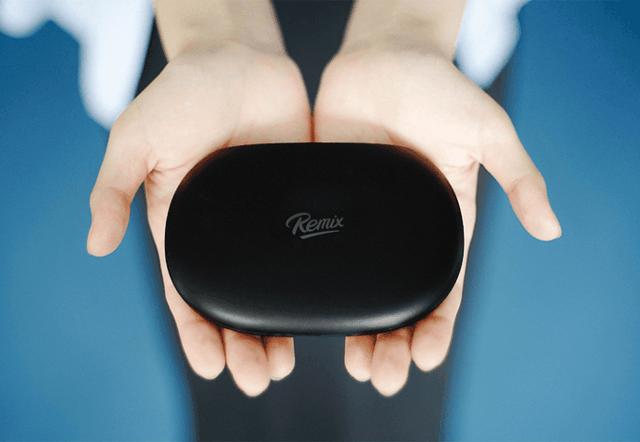 Source: KickStarter
The Remix Mini is basically a PC that has two USB ports, HDMI, Micro SD slot and a speaker port. You can connect all of your computer peripheral devices into this device, and it only costs $30 for the 1 GB RAM version with 8GB of storage. So, it's basically the cheapest PC replacement we have seen yet, and it has gained significant momentum as a part of a Kick Starter campaign with $1.5 million in pledges.
Of course, the device is ideal for emerging markets where PC affordability is a huge concern. Furthermore, it's worth mentioning that some of these KickStarter projects do go on to become large-scale business ventures like – for example – the Oculus Rift.
The operating system is a custom-engineered version of Android Lollipop, which is referred to as Remix OS. It comes with a taskbar and a start menu that is awfully similar to Windows 10. The device uses Android, but it gives you the ability to multi-task like a traditional PC. However, the components aren't very powerful so if you want to render objects, compress files or write and compile code, the device isn't going to have enough horsepower.
However, the device also is practical for applications like Office 365. Anyone with an Office 365 subscription can use this $30 computer to create spreadsheets, word documents and presentations. Various other basic applications like email, YouTube, Netflix and web browsing also would work extremely well.
The reason why the device is so inexpensive is because ARM-based CPUs or SoCs are extremely cheap as they can range from $5-$20 per unit, the cost of flash memory has declined quite considerably, and it doesn't come with advanced cellular capabilities, which removes the cost of a baseband modem. The device doesn't come with a screen, which also explains why it's cheaper than a smartphone. In other words, there is the potential for Android to become an alternative PC ecosystem.
High-end Snapdragon CPUs cost around $20 to $30 when based on cost tear-downs, so the performance of the device can reach that of a high-end smartphone without costing anywhere near that of a traditional PC. The trade-off comes from not having the ability to access certain applications outside of the Android ecosystem and the limited functionality it will have in highly-intensive computing situations. Despite these drawbacks, it's a solid enough of a computer to appeal to the mass market and is priced at the lowest possible point along a traditional cost curve.
I don't anticipate this PC to eat into Microsoft's sales to a meaningful extent in the foreseeable future, but I do anticipate that it will diminish Microsoft's strength in emerging markets. In developed markets, consumers want PCs that are powerful enough to run advanced applications and aren't as sensitive to pricing. So, while it's a novel attempt at breaking into the daily usage habits of casual PC-users here in the United States, the real upshot is the ability to sell PCs to people who are making less than $10 per day, as the remaining 60% of earth's population doesn't have access to computers/internet.
(click to enlarge)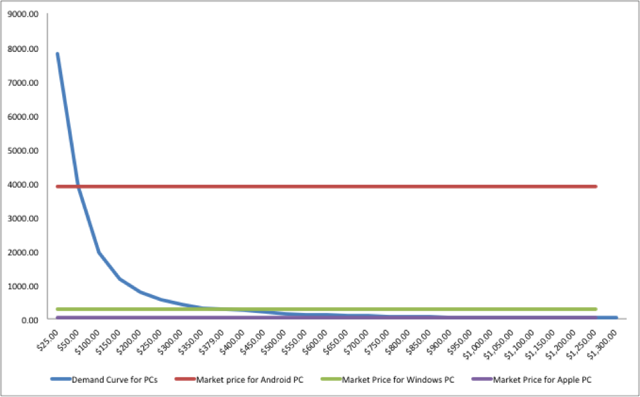 Source: Alex Cho
So, I created a supply and demand model for the various PC-branded products. The demand curve was created based on the price elasticity of demand for PCs and was fitted with an exponential model, which is why it looks different from the linear supply and demand curves that are expressed in basic supply and demand equations. The intersection of the horizontal lines with the demand curve is where market pricing determines the expressed demand, which in the case of Android-branded PCs is substantially higher due to lower input costs. Whereas Windows sits in the middle, and Apple (NASDAQ:AAPL) branded PCs are at the far right of the graph. Of course, we're assuming ceteris paribus, which means all else equal pricing will result in an expressed amount of demand.
That being the case, the elasticity for PCs came from the Journal of Empirical Generalisations in Marketing Sciences with the pricing elasticity of computers rated at -2.17. To determine if the price elasticity model somewhat resembled the actual market price and demand, I extended the function until $1,300, which is close to the average selling price of Mac PCs at $1,273. In FY 2014 Apple sold 18.9 million units, and according to the model, a PC sold at $1,300 would sell 21.71 million units. This implies that the equation is somewhat accurate even when pricing is moved to the far right or the far left of the graph, i.e. the correlation coefficient is pretty high.
We used real data to determine the average selling price of PCs, which camefrom the Statista database, and used data from IDC to determine PC shipments for 2015. Both are forecasted figures, which keeps the data as current as possible. Demand for PC shipments is currently at 281.6 million units at a price of $379. Using the pricing elasticity, we interpolate and extrapolate the data, which creates our demand equation.
Assuming pricing stabilizes for Android PCs at $50 per unit, the demand is estimated at 4 billion in annual shipments. Of course, this might not be entirely accurate, but it gives us a basic idea on the adoption potential of sub-$100 priced PCs. There are real world constraints that could impair the marginal cost of production for PCs beyond 1 billion annual units, and the cost of allocating more resources toward mobile components may create inefficiencies as it's not exactly clear whether there will be dis-synergies once production reaches that level.
Also, this assumes market pricing can remain stable at $50. It's one thing to sell Android PC-units in small order volume at $50 per unit with a break-even at around $30-$40. It's a whole different endeavor to scale infrastructure to a point where PCs are sold in emerging markets where there's political inefficiencies, import taxes and various other costs that will likely add up. In that case, we can safely assume that an Android PC will probably price for $100 in markets where currencies aren't as stable, infrastructure to sell products into an established retail chain is not available, and various other factors like taxation and high-trust barriers diminish profitability. The retail markup on Android branded PCs also will diminish the device sell-through. In that case, perhaps ASPs stabilize at $100, which will correspondingly result in 2 billion annual PC shipment volumes according to our demand model.
PC OEMs in the Microsoft and Wintel ecosystem have profit margins of around 5% with more modest volumes. However, 2 billion in Android-PC shipment volumes at $100 in per unit pricing results in $10 billion in profits, assuming 5% profit margins, which is pretty exceptional given the rapid commoditization of pricing. This profit pool pertains specifically to PC OEMs and not Google, as Google doesn't own a hardware business. In other words, this has unique implications for PC vendors like Hewlett-Packard (NYSE:HPQ) and Lenovo (OTCPK:LNVGY). Of course, developing a custom UI for Android is not research intensive, therefore, the barrier of entry is low. In other words, there's no guarantee Remix Mini will become successful, so speculation over the success of a start-up is not the purpose of this article. After all, any of the major PC OEMs can take the same exact concept and implement it into their own business models as the efficiency gains from marketing Android PCs is the same as long as mobile components are used.
Getting computers into the hands of emerging market consumers has been one of Google's biggest areas of focus. If we were to assume 2 billion to 3 billion additional consumers gained access to the internet, the impact on Google's search business would be profound. In a recent earnings report by Facebook, the ARPU (average revenue per user) in the rest of world (emerging markets) was $.90 per quarter, or $3.60 per year. Because ad pricing is relatively similar between large-scale platforms, we can use Facebook's figures as a proxy for determining the marginal revenue for Google, which I estimate would add up to $10 billion in incremental revenue. Of course, the economics of these developing markets aren't constant and also are improving, which correspondingly increases the potential revenue pool over time. Also, Google wouldn't just benefit in terms of ad revenue, but also would collect a royalty on every application that's sold via its PlayStore, which increases the potential revenue from rapid PC adoption in the emerging market.
The ability to consume content online drives Google's ad business as the company's web-based products operate more on global scale, so driving the size of the entire market will correspondingly increase Google's advertising revenue. Google cannot sustain high growth rates unless if it develops a strategy for onboarding consumers that can barely afford a wireless connection. Google has various projects for lowering the cost of basic broadband Internet to less than $10/month, which is why the Remix Mini or a product similar to the Remix Mini is extremely compatible with Google's long-term strategic positioning in various emerging markets.
Not to mention, the Remix Mini is meant to work with a computer monitor. This increases the viewable area of a website, which correspondingly increases the CPMs for advertisers. Therefore, it's a very compatible product with Google's current business model.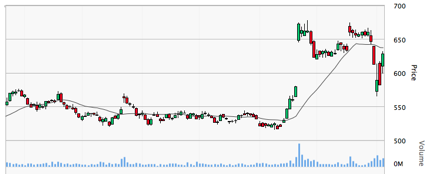 Source: Amigobulls
As you can tell, Google is starting to recover, and I think that investors can still capture a decent entry point at current levels. Admittedly, it's not as cheap as it was a couple days ago, but the long-term growth potential and various developments in its product ecosystem makes the company a compelling investment.
Some final thoughts to consider: the adoption of the Remix Mini will take time. After all, a sudden decrease in price doesn't mean an immediate increase in demand in the real world. Economic models don't take into consideration the adoption curve, so the projected impact from an Android PC will unfold over the course of many years and will be concentrated in markets where price sensitivity is substantially higher than developed markets. In other words, supply and demand models aren't that multi-dimensional. Furthermore, building out the necessary infrastructure to accommodate for demand will require large scale capital investment which caps the available supply from the very onset. Building the necessary scale to ramp production also will take several years and will require a consortium of PC vendors to work together. Therefore, investors would gain the best positioning by owning shares of Google as it would be a direct beneficiary without expending the necessary capital costs. This is a five- to ten-year growth story, as the pricing on PCs would not only need to decline, but the cost of broadband Internet also wouldneed to decline. The most promising technology is satellite, as the cost of deployment is the lowest, and new developments in satellite internet indicate that speeds can increase considerably albeit not to the extent of fiber-optics.
I continue to reiterate my buy recommendation on both Google and Microsoft.
Editor's Note: This article discusses one or more securities that do not trade on a major U.S. exchange. Please be aware of the risks associated with these stocks.
http://seekingalpha.com/sloth_files/published/articles/1.html?p=%7B%22aid%22:3475716,%22d%22:%5B%22investing-ideas%22,%22sectors%22%5D,%22t%22:%5B%22long-ideas%22,%22us%22,%22internet-information-providers%22,%22technology%22,%22article%22%5D,%22s%22:%5B%22hpq%22,%22lnvgy%22,%22msft%22,%22goog%22,%22googl%22%5D,%22z%22:3,%22pr%22:%22goog,googl%22,%22a%22:%22alex-cho%22,%22cnt%22:%5B%229%22,%2211%22,%225%22,%228%22,%2225%22,%2226%22%5D,%22ms%22:1,%22ldr%22:%5B%22long-ideas%22,%22technology%22%5D%7D