Home
>
Uncategorized
> Apple: Nike Results And Other Data Bode Well For September Quarter In China
Apple: Nike Results And Other Data Bode Well For September Quarter In China
Nike's latest quarterly results include 30% y/y revenue growth for China.
Nike's data and other data indicates that China's economy is stable and not collapsing.
The combined data all point to Apple's continued strong growth in China.
China Surprise
Nike reported results for their fiscal 2016 Q1 on September 24 and surprised analysts with a 30% y/y increase in revenue for Greater China to $886 million. This was despite FX and the assumed macro economic headwinds. Nike's earnings before interest and taxes in Greater China grew even faster by 51% y/y, to $330 million. The faster earnings growth for China indicates that Nike was able to sell high priced, higher margin items to consumers.
Nike's results fly in the face of the doom and gloom scenario that has been painted for China. While Nike is not the aspirational brand that Apple is in China, it is nevertheless a premium brand commanding a premium price relative to other brands. Buying Nike rather than a less expensive brand is clearly discretionary, and discretionary spending is supposed to be the first thing that is curtailed in an economic slowdown.
Nike highlighted their results in the conference call, and analysts seemed to be both impressed and surprised by the results. Naturally, China was the first topic addressed during Q & A in which Nike was asked to provide additional background:
The piece that we continue to look at is the brand in China is extremely strong. And that's a piece that we have known for a while. As we went through the reset strategy, we wanted to be really focused on how to make sure that we could drive the Business.

So, we're very mindful of the macroeconomic volatility in the marketplace. But we continue to really focus on the things that we can control which is how we continue to bring excitement to the marketplace and also continue to align the marketplace around our category offense and we're seeing success from that perspective.
Nike acknowledged that they've been pushing fairly hard in China with some savvy marketing and product positioning with U.S. athletes making appearances at various sporting events. I think the takeaway here is not that there are no economic headwinds, but that a well marketed, strong U.S. brand can do well nevertheless.
Certainly, I consider this to also describe Apple. So now we have two rather good pieces of data pointing to Apple's performance in the September quarter in China, the other being CEO Tim Cook's well publicized statement to Jim Cramer regarding strong growth in China through July and August.
What Being Data Driven Means
Since I published Why Apple Investors Shouldn't Fear China, I've advocated taking a very data driven approach to assessing Apple's position in China. Let me elaborate briefly on this concept.
My background is in science and engineering, and early on in everyone's science education one learns about the concept of scientific measurement. Scientific measurements are never perfect, they always contain some error. That error can be either random or systematic, but the science student is forced to confront the fact that errors always exist. A good scientific measurement finds ways to mitigate that error in order to produce useful observations.
Econometric data fall under the category of scientific measurements as well. They are subject to random errors because they are based on surveys of statistical samples. Generally, national governments can't survey each and every business, so they rely on sampling to provide a picture of what's going on in the economy.
There's been a tendency on the part of some in the media to discard economic data from the Chinese government because it's not perfect. There could very well be systematic errors in the Chinese data, because the government is fudging the data to make the economy look better than it really is. But in a data driven approach, you go with the best data you have, and the best data we have about China comes in part from the Chinese government.
There may be some error in the data, but I doubt that it's that large. China is a full fledged partner in the global trading community, and that carries with it some obligations. One of those obligations is a greater degree of transparency about China's economic circumstances. In order to become a member of the global trading community, China had to submit to a fairly high level of scrutiny by its trading partners.
China has been a member of the World Trade Organization since 2001, and is subject to the rules of WTO membership. Membership entails a significant amount of scrutiny by the WTO, as described on the WTO site. Therefore, I doubt that China is fudging its economic reporting by very much, since this would be discoverable by other WTO members and lead to an embarrassing loss of face for the Chinese government.
China Update
So let's look at the data coming out of China for additional clues as to Apple's fortunes in the September quarter. This is data that I highlighted in my "China" article. The first is the Caixin Flash China General Manufacturing PMI, which came out September 23. The report was not particularly good. The PMI index fell yet again, from 47.3 in August to 47 in September. About the only good thing you can say about it is that the index isn't falling as fast as it did from July to August. Overall, I would say that the PMI is a negative indicator.
However, data from the Chinese government via tradingeconomics.comindicates that manufacturing increased by 6.8% y/y in August, an increase from the July figure, as shown in the chart below.
(click to enlarge)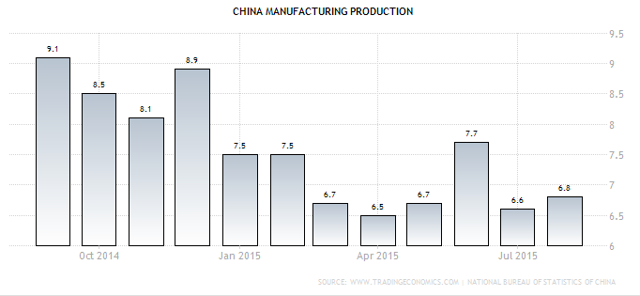 GDP annual growth rate (as a percent) was unchanged from July:
(click to enlarge)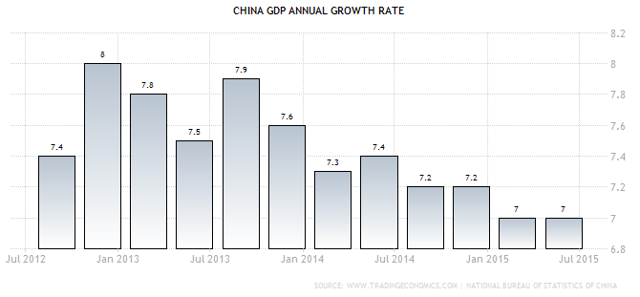 Conclusions
The available data indicates that the Chinese economy is not collapsing, but appears to have stabilized the manufacturing sector. Data from Apple and Nike indicates that demand for U.S. brands among Chinese consumers remains strong. Based on the data, I'm becoming more bullish about September quarter results for Apple. I'll have more specific predictions as we get closer to the earnings report, but I believe that revenue growth in the mid teens is pretty safe. This is, after all, what Apple guided to in the last earnings release.
Will Apple's September earnings be enough to dissuade Apple bears? Probably not. Probably the rumors of China's imminent collapse will simply be rolled forward into the next quarter. As I've stated before, I don't expect the negativity to fully relent until Apple reports its December quarter.