The New York Times Tuesday Evening Briefing
Good evening. Here's the latest.
Stephen Crowley/The New York Times
1. Facing a storm of criticism, including from President-elect Donald J. Trump, House Republicans did an about-face on their plan to gut the Office of Congressional Ethics.
It was an embarrassing turn of events on the first day of business for the new Congress, undercutting attempts to project unity among Republicans, who will control the House, Senate and White House for the first time since 2006.
An immediate target is repealing the Affordable Care Act, but the changes Obamacare created over the last eight years may survive.
_____
Carlos Osorio/Associated Press
2. Mr. Trump scored a second victory. Ford Motor canceled plans to build a $1.6 billion plant in Mexico and said it would invest $700 million to increase production in Michigan.
The unexpected news came hours after Mr. Trump took aim at General Motors, tweeting that it should make its Chevrolet Cruze compact car in the United States or face a "big border tax" on the Mexican-made model.
_____
Damon Winter/The New York Times
3. Megyn Kelly, one of Fox News's most popular hosts, is leaving for NBC. The salary, while not disclosed, can be assumed to exceed the $15 million Fox contracted for her final year.
Besides the money, the payoff is a trifecta of platforms: her own daytime show, an in-depth

Sunday

night news program and a role in the network's politics and big-event coverage.
_____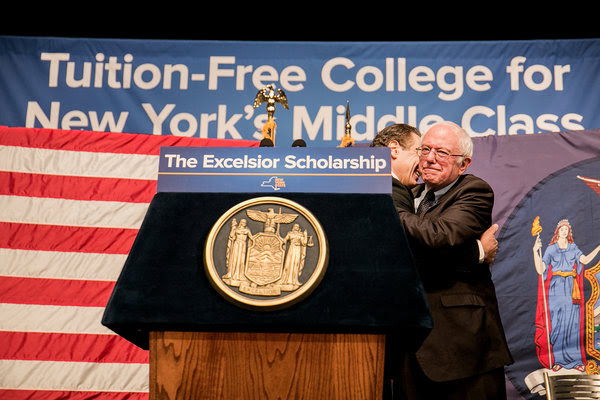 Sam Hodgson for The New York Times
4. Gov. Andrew M. Cuomo of New York, who is rumored to be considering a presidential run, seized on a popular liberal talking point.
He announced a plan to offer free tuition at state colleges to low and middle-income students, unveiling the proposal alongside Senator Bernie Sanders of Vermont.
"If New York State does it this year, mark my words, state after state will follow," Mr. Sanders said.
_____
Martin Bureau/Agence France-Presse — Getty Images
5. French workers, already the subject of international envy for generous vacations and strong legal protections, now have a legal "right to disconnect."
A measure that took effect with the new year requires companies with more than 50 employees to figure out how to protect time off from interruptions like emails.
Some have already set firm "off" times, with no replies expected between mid-evening and morning.
_____
Poras Chaudhary for The New York Times
6. India has become a major center for cyberfraud, thanks to a plethora of young workers skilled in computers and English, a vast call-center culture, tech advances and what can only be called ingenuity.
One recent scheme that targeted recent Indian immigrants to the United States was brought to light when two teenage call-center workers, above, grew so ashamed that they blew the whistle to United States authorities.
_____
Todd Hido for The New York Times
7. Dr. B.J. Miller, a triple amputee after a horrific accident in college, is on a quest to change the way we die.
His experience of suffering as an inevitable part of existence, not a mere disruption, led him to pioneer a new model of palliative care that aims to depathologize death.
"We know that he has been at the brink of the abyss that he's talking about," a colleague said. "That gives him an authority that others may not have."
_____
Southampton City Council, via Agence France-Presse — Getty Images
8. Titanic news: An Irish journalist who spent 30 years investigating the famous ship's sinking said he found evidence that a coal fire in the ship's hull that started weeks before she set sail played a central role in the ship's demise.
"It's a perfect storm of extraordinary factors coming together: fire, ice and criminal negligence," he said. "She should never have been put to sea."
_____
Al Bello/Getty Images
9. Finally, there are old people and then there are superagers — those who boast the memory and attention of healthy 25-year-olds.
Want to join them? A psychologist who studies the phenomenon offers this advice: make your brain work hard at something, whether physical or mental.