Everyone wears denim – Okay, well, at least 99.9% of the population has worn it at some time. Denim fashions are simply a symbol of our cultural history and has become an international wardrobe staple. But in every season, you will find denim fashions interpreted in a slightly different way, usually through a new color or "rinse," embellished or artfully shredded textile, or with a change of hemline.This year there seems to be a sea change in how we think about wearing denim. Designers have taken it from the ranch, the hiking trail, and the backyard barbecue, and claimed it for the runway. Here are some of those interpretations.

Although some fashion sites are quick to declare the skinny jean dead, reports of their demise seem awfully premature. It's just that the super skinnies have been shortened, given a high waist and shredded hems. But what goes up must come down. Keep an eye out for very long slightly looser straight jeans that even puddle a bit around the ankles like harem pants (I'm expecting these in the fall.) And in a nod to athleisure, some of the straight leg versions are sporting striped seams. The "Carpenter" style is having a revival too, which is good news for those of us carrying around a little extra bulk in the seat and thighs. As for color, stonewashed (think Olivia Newton-John in Grease) is also replacing all those pretty new pastel colored and white jeans as the must-have in denim fashions.
Stella McCartney Leane 80s Wash Jeans, $433
7 For All Mankind Roxanne Side-Stripe Skinny Jeans in Vintage Blue Dunes, $229
You'll see lots of high waists, looser legs overall, peg rolled hems, and wide flares. Some are even showing those wider flares with deep turned up hems (which, frankly, looks a little forced. An item that strays too far from utility often becomes a short-term trend.)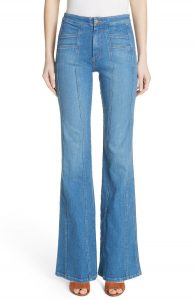 I.AM.GIA Ace Cargo Jeans, $129.95
Keep in mind that the more voluminous the silhouette the more they require a shoe with some substance. Save your delicate sandals for your skinnies and rolled hems. Oxfords, brogues, derbies, and penny loafers are the dressed-up options when you don't want to wear sneakers or high heel sandals.
As for the jackets, you'll be seeing a lot of larger, looser boyfriend or trucker jeans jackets embellished with patches or slogans, and oversized sleeves. If some of them remind you a bit of the 1980s you'd be right. There's an 80s nostalgia revival happening in fashion. But always remember when a trend is revisited it's always just different enough that it might make your actual older vintage pieces look, well, dated. You'll also be seeing denim used in non-traditional ways like kimono jackets, trench coats and dusters.
Balenciaga Handwritten Oversized Graffiti Denim Jacket, $2,090
Sacai Cotton Denim Jacket, $510
STS Blue Long Denim Boyfriend Jacket, $99
Finally, the beloved jeans jacket persists as a perennial and you'll find them everywhere. But if you want to add a little edge, go big. Maybe that's the main message this year.
Levi's® Baggy Trucker Denim Jacket, $98